La Tuniña is a female student association with a big passion for Spanish music. You don't have to be able to play an instrument to join La Tuniña, you only have to be willing to learn it. There's always a way to contribute musically. The most important goal as La Tuniña is to have fun! We often go out for drinks and performances, also in other countries where we meet other Tuna groups at Tunafestivals.
With us, you can just be yourself. Friendship and the tuna tradition go together very well, and together create a fantastic base to experience your student life in Eindhoven with a Spanish spirit.
If you join…
You'll have lots of fun and will also learn to sing Spanish music and to play a Spanish instrument, the most popular of which – guitar, pandereta and bandurria. We are a very open association: all female students in Eindhoven are welcome regardless of their nationality and it's not necessary to know how to play an instrument beforehand.
Every Monday from 20:00 to 22:00, we are rehearsing in Jazz podium "De gouden bal" and afterwards we enjoy a drink together in the bar. We also go on trips abroad to participate in competitions (certámenes in Spanish) at least once a year and so we travel to Spain, Portugal and Mexico.
La Tuniña is not expensive: contribution is free! Moreover, if you join rehearsals and performances, the association can support you financially for the Tuna trips we make!
Also lots of skills you develop at La Tuniña you can add them to your resumé: cultural development, presentation skills, management experience and organizing groups. Life experience you'll have for sure!
"Salud!"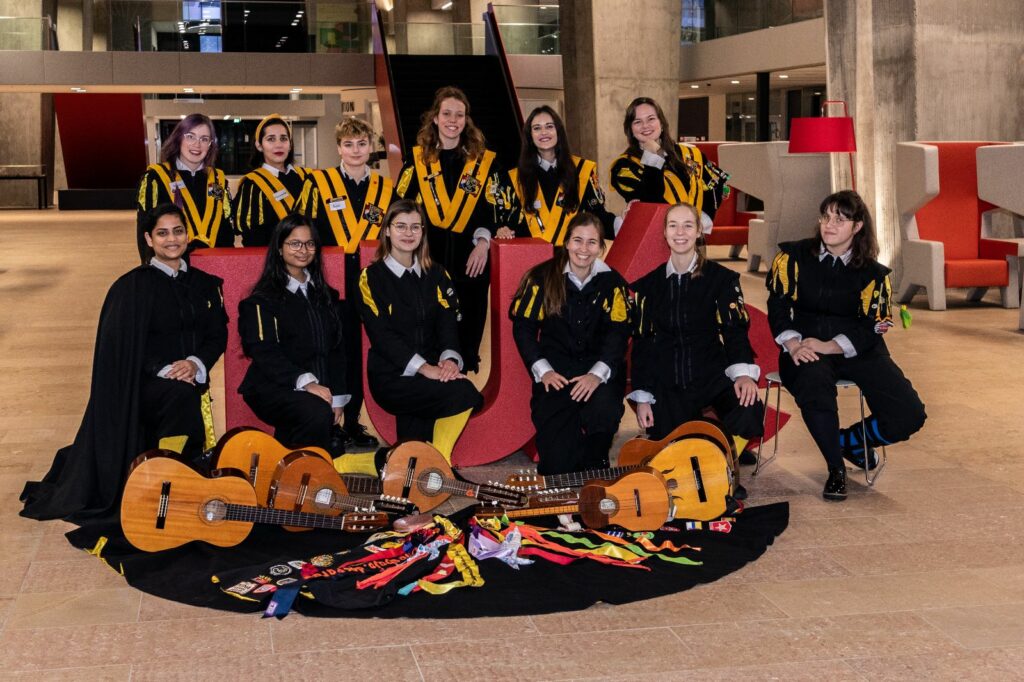 Would you like to:
– make music with a fun group of girls?
– travel regularly to Spain or Portugal?
– perform at parties?
Then feel free to visit our rehearsal to see if you'd like to join Tuniña, no strings attached!